Short corporate bio and images for clients and PRs.
---
Short biography (for press)
Chris Middleton (http://chrismiddleton.company) is one of the UK's leading business and technology journalists, an experienced public speaker, the author of several books on digital media, and the editor of (and contributor to) more than 50 non-fiction books. Chris specialises in robotics, AI, the IoT, and automation, along with cloud technologies, business strategy, and leadership. He is the former editor of Computing and Computer Business Review, among several other titles, has written for the Guardian, the BBC, Computer Weekly, and the Times, among others. He is a contributing editor to diginomica, Computing, and Hack & Craft News. Unusually, Chris owns two humanoid robots, which he hires out to events, companies, and schools – one, Stanley Qubit, has become a TV and radio star. Under a pseudonym, Chris is a professional musician and producer, with several songs receiving national and local radio/TV airplay. He is also a designer, photographer, collector, and painter.
Scroll down for photo.
---
Detailed biography (for conferences)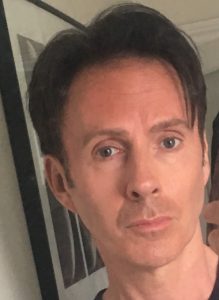 Chris Middleton (http://chrismiddleton.company) is what used to be called a 'Renaissance man'. First, he is one of the UK's leading business/technology journalists and editors, currently specialising in robotics, AI, and enterprise technology strategy. He has appeared on the BBC and elsewhere as a robotics expert.
The former editor of Computing, Computer Business Review, UCInsight, CIS, and Professional Outsourcing, Chris has written for The Guardian, The Times, the BBC, Computer Weekly, and Citywire, among others, founded Strategist magazine, and is a Consulting Editor for diginomica (one million unique visitors), Hack & Craft News, and Computing. Chris has also designed several magazines and websites.
Chris is the author of a number of books on the creative use of the digital world, and is the editor of more than 50 other books. He is currently working on two novels.
Chris is an experienced public speaker and conference chair/host. In 2016, for example, he hosted the Digital Marketing World Forum London, the Space Innovation Congress (interviewing NASA astronauts and astrophysicists), and other events.
Chris is probably the only journalist in the UK to own several humanoid robots. One, the famous NAO robot Stanley Qubit, has co-presented a BBC TV breakfast show with Sian Williams and appeared at conferences, exhibitions, and events throughout the UK. In 2017, Stanley Qubit made history as the first real robot ever to appear in a dramatisation of Isaac Asimov's I, Robot stories, on BBC Radio 4, in which Chris also appeared.
Under the pseudonym 'christopher rye', Chris has a parallel career as a professional songwriter, guitarist, and electronic music producer, with multiple airplays on BBC radio both nationally (BBC6music and Radio 1) and locally (BBC Introducing).
In his spare time, Chris is a photographer, painter (with his own studio in Hove), collector, and skater on vintage boards.
For Chris' full biography and CV, go here.
---
Please note
This is Chris' personal website. For more information, go to the following pages: Contact/About / Journalist / Magazine Editor / Author / Book Editor / Designer / Musician / Photographer / Recent Articles / Robotics Expert