Full details for investors of Chris' business magazine project.
---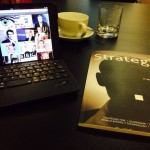 Leadership, organisations, people, technology, world affairs, and business travel.
Launched as a concept issue in Spring 2014, Strategist magazine (aka 'the Strategist') was a title that Chris single-handedly conceived, researched, developed, designed, edited, and sought to publish himself: a quarterly boutique print magazine for the boardroom table and the business lounge, which capitalised on the ongoing boom in high-end, boutique print publications.
• Gallery of Chris' Strategist designs at the foot of this page.
---
A history of the project
Chris developed the Strategist for two years, and took his concept to a publishing partner for whom Chris produced a concept issue (copies of which are still available). One week before publication of full issue 1, the company attempted to defraud Chris and steal the IP.
The company had promised to put in an investment sum, in exchange for which Chris would put in his IP, and jointly they would own the enterprise. However, they attempted to walk away with the Strategist without making their investment, and without paying Chris for much of his work (he edited, co-wrote, art edited, designed, laid out, and produced issue 1 entirely himself).
The company falsely claimed the IP was theirs – a claim they were unable to prove – and set about designing a website. Before they were able to do so, Chris designed, built, populated and launched an online version of the magazine himself in just three weeks.
However, as a self-employed writer and editor – now without the backing of a publishing house – Chris was unable to commercialise what remains an excellent blueprint for a magazine and conference brand.
---
iamtheStrategist.com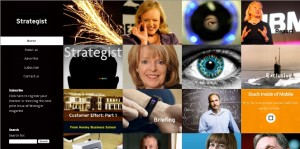 Strategist was never intended to be just a boutique print magazine. The concept mobile-first digital edition that Chris launched himself can still be found at iamtheStrategist.com. (It has not been updated since 2015.)
With a grid of colour-coded content designed to engage readers with long-form editorial, iamtheStrategist.com is a world away from the news-portal model of most online magazines.
Its curated approach was a deliberate attempt to shift professional publishing away from what Chris calls "clickbait and cats". He says, "For years I was told that no-one reads long-form content online, but that's nonsense: on mobiles and tablets, there's no distinction between an ebook and a website."
---
Strategist gallery: Designs by Chris Middleton