Chris Middleton meets his childhood hero, Dr Buzz Aldrin
---
On Sunday 28 February, 2016, I met my childhood hero: Buzz Aldrin, something that would have made the little boy I used to be very happy. Dr Aldrin was interviewed at the Science Museum by another hero of mine, Britain's great populariser of science, Prof. Brian Cox, as part of the institution's Cosmonauts – Birth of the Space Age exhibition, which explored the Soviet Union's contributions to the conquest of space.
(Not only did Russia put Sputnik and the first man into space, Yuri Gagarin, but also the first woman, Valentina Tereshkova. Cosmonaut Alexey Leonov was the first man to walk in space, and he might have been the first to set foot on the moon, had the LOK/N1 project not been cancelled after Apollo 8's successful lunar orbit.)
Dr. Aldrin explained how the space 'race' had always been a collaborative venture – the Cold War thawed in space long before it did on land. And Leonov told him, years later, how he had crossed his fingers and hoped for a safe landing as Aldrin and Armstrong approached the moon's surface on 20 July, 1969.
I did too. I was a child of the Space Age, a toddler growing up in a self-assembled private world of astronauts, robots, books, music, radio, Ray Bradbury, Thunderbirds, and the stories I used to tell myself when there was nothing between me and the cold night sky. My parents sat in separate rooms with their backs to the door, leaving me to assemble a life raft of ideas out of whatever junk I could find – one on which I knew I could escape.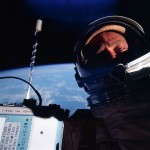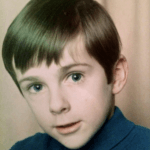 But someone was more important than all of these things to the dream-lost boy that I was: Captain Buzz. But why? (And isn't he a Colonel?, you ask). Let me explain…
In 1969, as I watched Aldrin clamber out of the Eagle and start to jump around, testing the lunar gravity, a caption flashed onto the screen. And because our television was a primitive machine, made of wood and tubes and cathode rays, there was a loud buzzing sound as the caption blazed onscreen. "What was that?" I said, turning to my mother. I realise now that she said, "Oh, that's caption buzz. It's nothing to worry about, dear." But what I heard was, "That's Captain Buzz."
And so I believed that Buzz Aldrin got his name from his ability to make my television buzz with pleasure from a distance of 240,000 miles.
It was secret-agent code between an astronaut and the little boy who was waving back at him from the lonely blue planet on the moon's horizon. And the message seemed to say: Although there's nothing but dust on the moon of love – not even air – everything will be alright.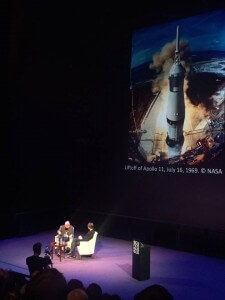 Years later I discovered many wonderful things about Captain Buzz: that he was a pilot, an adventurer, a space walker, and a war hero, but also a rocket scientist and a brilliant theoretician – which alienated him from his peers; that, post-Apollo, he'd battled depression and alcohol, and sold cars out in the great American desert before turning his life around and reclaiming his place in history.
And he is a poet at heart. After all, this is the man who said "Magnificent desolation" as he surveyed the moon's surface. Plus he took the world's best ever selfie, floating high above the earth.
Today, Aldrin is the driving force behind the ShareSpace Foundation, which is designed to spark children's literacy in science, technology, engineering, and maths (STEM), but also, brilliantly, the arts (STEAM). Because he understands more than anyone in history, perhaps, that space exploration can ignite our creative spirit.
And so it was on a Sunday, in a room full of space debris and miracles, that this story finally completed its decades-long orbit and I found myself face to face with Captain Buzz.
So what did I say to him, and what did he tell me? That, dear reader, is for me to know. Find your own hero.
Also see:
Buzz's appearance on The Big Bang Theory
buzzaldrin.com
.chrism

Enquiries
07986 009109
chris@chrismiddleton.company
---
© Chris Middleton, 2016