Clicky the Space-Age Boy and other strange, true tales
---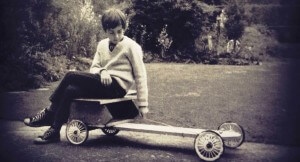 Chris' early years were highly unusual. This is a tale of astronauts, pirate radio stations, ghosts, code-breaking, classical composers, quiet rebellion, and a boy attempting to contact the outside world…
(For the main Chris Middleton website, click here.)
Chris Middleton was born by the sea in Folkestone, Kent, in a large house where the top floor had once been a ballet studio. He was the son of an architect father and a civil servant mother. His sister, Joanna, is seven years his senior and left home when he was still a boy (they remain close). The family moved to Reigate before Chris started school.
Mary and Roy
First, a word about his parents: At the age of just 15, Chris's father, John (known in the family as Roy), had volunteered to be a fire watcher at St Paul's Cathedral during the Blitz: an act of astonishing bravery for a boy, doubtless inspired by his love for Sir Christopher Wren's building. At the end of the war, Roy served for two years in Japan. In between, he may have been involved in code-breaking: Joanna recognised him in a photograph in a Bletchley Park documentary. Later in his career, Roy's devotion to architecture and design meant that Chris was fortunate to grow up in a house full of beautiful books.
Roy loved architecture so much that he once asked for a rose bush as payment for designing a building. He hand-made zoetropes and working models of the solar system (orreries), and was an autodidact who studied time, astrophysics, geometry, and relativity – amateur fascinations that Chris inherited. Later in life, Roy was given a laptop: he took it to pieces and said there was "nothing useful inside it".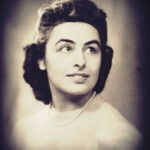 Chris' mother, Mary, had worked in Whitehall until her marriage in the 1950s, arranging international conferences and editing documents. She loved the ballet and London life. One of her final engagements was attending the Royal Opera House on the night that Soviet leader Nikita Khrushchev was guest of honour.
Mary was in her late 40s when Chris was born – late in life to have a child, even by today's standards – and had lived an independent life in Kensington, traveling in Europe, before giving it up to be a small-town housewife. Her sadness never left her, but she consoled herself by teaching her son to read and write. Among her own ancestors were a private school headmaster and a Navy man who spent his life at sea.
Clix
As a little boy, Chris was known as 'Clicky' or 'Clix' because he tapped out rhythms on a set of plastic keys. Clix never knew his grandparents or most of his relatives, and grew up in Edwardian seclusion in quiet towns and houses that stood behind walls and beautiful gardens. Mary and Roy were a generation older than most of Chris' friends' parents, and had become estranged from each other.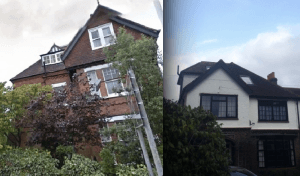 Thanks to Mary, Chris could read and write before he started school at four and in his first year at primary school he helped others around him to catch up. Fellow pupils saw him as a problem-solver and came to him for advice, while teachers regarded him as something of a prodigy – but also as extremely disruptive. The truth was he had met few human beings and almost no children of his own age, and so was excited to finally be among people he could talk to – rather than listen to his parents screaming at each other.
Captain Buzz, forever!
Chris' boyhood hero was Buzz Aldrin. When Chris watched footage of the 1969 moon landing, the family's ancient black and white TV made a loud buzzing sound whenever a caption flashed onscreen. Clix asked his mother what the noise was. She answered "That's caption buzz", but Chris misheard it as 'Captain Buzz', and so believed for many years that the astronaut got his name from his ability to make televisions buzz from a distance of 240,000 miles.
(Chris finally met Buzz Aldrin in 2016, which you can read about here.)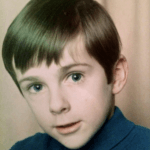 Growing up in a big, empty house in a small, empty town (where even the buildings yawned) the space-obsessed boy set about acquiring every skill he could think of simply to entertain himself, while his parents sat in separate rooms with their backs to the door. By the age of just eight, he was writing plays, comedy sketches, songs, and even film scripts, building transmitters and crystal sets, experimenting with lights, tape loops, and recording devices, teaching himself the guitar, and collecting vinyl. Little has changed since, and he has always been fascinated by Joe Meek and other bedroom boffins.
At the age of eight, the guitar became Chris' passion, but only after his music teacher failed to turn up for a lesson. Chris stomped into the Staff Room and found the man – Mr. Lee – smoking a cigarette. "You're supposed to be teaching me the guitar!" bellowed Chris. Thrown out on his ear in disgrace, Chris resolved to teach himself from then on, which is when he fell in love with the instrument.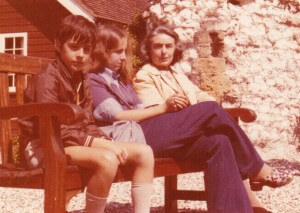 Chris thought for many years that he was the only musician in the family, but unknown to him as a boy, his love for music and sound was shared by relatives. His much older cousin John had been a blues musician on the London scene in the Swinging 60s, while an uncle had, according to Chris' father, worked on the acoustics at the Festival Hall.
A great uncle by marriage was the 20th Century classical composer, Herbert Howells, whose daughter, actress Ursula Howells (The Forsyte Saga, Barchester Chronicles) Chris knew. Howells wrote music for both the Coronation of Her Majesty the Queen and the memorial service for President John F Kennedy. As a young man, Howells had known Ralph Vaughan Williams and, by coincidence, Chris later became friends with a descendant of his, Xanthe Vaughan Williams, at university.
Pirates, monks, and slugs
Aged nine and desperate for company in an often deserted town, Chris somehow bodged together a pirate radio station out of an electronics kit and an old Roberts radio in his bedroom, until a visit from a baffled police officer forced his mother to deny any knowledge of her son's broadcasting activities.
Chris reasoned that reversing the principle of a radio would create a transmitter. It did, and the station could broadcast anywhere on the medium wave over a distance of about a mile – simply by moving the dial. Chris would tune into the radios of passing cars to talk to the drivers and play them music. He made the aerial by covering an umbrella in tin foil, copying a picture of Jodrell Bank.
Aged 10, Chris saw the ghost of a monk in broad daylight on the Holbein Hall staircase at his junior school, Reigate Priory. He was later told that a monk had been murdered at the top of the stairs, when the building had still been a priory. Chris doesn't believe the story, but can still remember the ghost.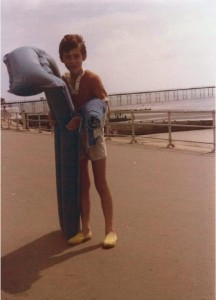 At Reigate Priory, Chris appeared in a BBC TV documentary about the school, which had its own museum (and even a TV studio, in which Chris was a cameraman). In class, he staged plays and sketches that he had written. His version of 'The Twelve Days of Christmas' – replacing the familiar Yuletide list with a succession of increasingly rude, outrageous, tongue-twisting gifts – was performed by a choir, with Chris conducting. It brought the house down, but Chris' first draft was deemed far too offensive and had to be censored by the headmaster.
At 11, Chris attended independent day school Reigate Grammar, where his contemporaries included some other original thinkers: among them, survivalist Ray Mears, political commentator Andrew Sullivan, musician and DJ Fatboy Slim (then known by his real name, Quentin Cook), DPP and Labour MP Sir Keir Starmer, and actor, comedian, and writer David Walliams. Chris knew Starmer, took A' Level English with Mears – who liked to dress in black and carry an attaché case – was friends with Sullivan, and once played guitar with Cook in a damp basement studio called 'Slugs'.
Before joining the Housemartins, Cook ran a club night in Dorking called 'Disc Attack', and used to pretend to come from the Sixth Form College in Reigate because it was cooler. He once changed out of school uniform into jeans and t-shirt in the back of a car and drove past the school gates shouting, "I hate you f*cking Grammar School boys!", even though he was one.
Shades of rebellion
At RGS, teachers variously described Chris as a "dark horse", "an enigma", "an A-grade student", "a trouble-maker", "a genius", "a complete nightmare", "a budding producer", and "the worst experience in all my years of teaching", depending on who you spoke to.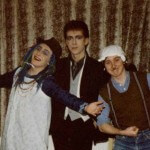 From the Third Form all the way through to the Upper Sixth, Chris missed every single morning assembly, because he preferred to go for a walk on his own. Apart from once: his watch was wrong and he turned up on time by accident, receiving a spontaneous round of applause from the school.
At that time, RGS was full of one-offs and rebels, such as an older boy who was flamboyantly gay and once paraded through the grounds in a green satin dress and full makeup: an act of extraordinary heroism for the 1970s. Another was part of the Bromley punk scene and appeared in Adam Ant videos.
Chris' own, more discreet, rebellions – his 100 per cent lateness record, industrial levels of swearing, and building a vast scale model of the Colosseum in Rome out of library books during lunch break – were tolerated by the headmaster: Chris' high English, Art, and languages grades probably saved him.
He was top of the class in English throughout his years at school, but Maths was a different matter: his O'Level paper consisted of a letter to the examiner explaining that arithmetic wasn't his thing, along with some cartoons, short stories, and (for reasons that are lost in the mists of time), a clearly labelled diagram of a haddock. Today, Chris has a very good head for figures: that's freelancing for you!
Chris rewarded the school's faith in him when he won a national short story prize at the age of 18. At about this time, he also began writing and multi-tracking his own songs. Over the years, he would record literally hundreds of pieces of music, only to put the finished tapes in a box and never play or send them to anyone: his passion lay in the process. Later, he amassed several hard drives full of unreleased music: an ongoing process today, when having 90 unfinished songs on the go at any one time is not unusual.
To date, he has only ever sent five songs to radio stations himself. All of them have been played on air, two on BBC6Music, and three on other BBC stations and local radio. A schoolfriend sent Chris' first ever recording – a Spanish guitar piece multi-tracked on cassette in his bedroom – to Radio London. They played it on air. A 100 per cent strike rate!
Coming back to life
Chris' late teens were dogged by frail health: he'd grown six inches in one year, but hadn't put on any weight. Suffering from exhaustion, Chris chose not to pursue the Oxbridge preparatory year that his English teachers urged him to take. He considered art school, but eventually accepted a place at Kent University, where he studied English and Drama. But throughout his time at college, Chris remained in fragile health.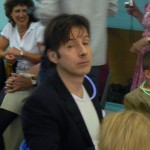 In his first year at Kent, Chris 'borrowed' an upright piano from a common room in the middle of the night, and managed to wheel it half way across campus towards his bedroom, playing cat and mouse with a baffled porter who could hear the wheels squeaking. Chris' plan was foiled when he realised he couldn't get the piano down a flight of stairs.
On campus, Chris appeared in productions of plays by Bertolt Brecht, Howard Brenton, and others, including Brenton's 'Epsom Downs' – in which he played seven different roles, including the homeless man, Sandy, around whom the story revolves.
His drama tutor was Alan Beck, who helped look after film director Derek Jarman in his final years, before his death from an AIDS-related illness. The next time Chris saw Beck was a decade later in a London park, where Chris found him dressed as a nun: Sister Latex of the Order of Perpetual Indulgence, who offered a laying on of hands. The perfect rehearsal for a life in publishing!
Go to Publishing Tales for more.
Why is this article written in the third person?

---
Postscript: The origin of 'christopher rye'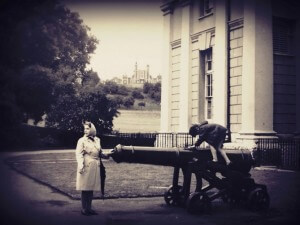 'christopher rye' is Chris' pseudonym for music and related projects. When Chris lived in Reigate, a Romani woman would come to the house selling sprigs of heather. Chris' mother would always buy one and he would often find the twigs pressed between the pages of books. When he asked his mother about this, she said: "The gypsy is my charity". Those beautiful words stayed with Chris for years, and, like his mother, he felt an affinity with the old woman who came to the door peddling good fortune.
Chris then discovered a 19th Century novel, 'The Romany Rye', by George Borrow, and found that 'Rye' – as well as meaning 'island' in old English – was a Romani word for an outsider (someone not born a gypsy) who becomes a wanderer and traveler by inclination. And so the romantic notion of 'Rye' being his secret name stuck, because Chris is an outsider and wanderer too.
'christopher rye' (always in lower case) is a fictional character and Chris' alter ego. He is a Byronic outsider, displaced in time, who wanders the night streets of modern-day New York – Chris' favourite place.
Why is this article written in the third person?

Enquiries
07986 009109
chris@chrismiddleton.company
---
© Chris Middleton 2015. All rights reserved.