Weird scenes, strange people and casualties on the media front line
---
Chris has worked for nearly 25 years in publishing and the media, but it wasn't all martinis at The Met Bar… except once, when he danced the night away there with the British Lions. He can't quite remember why, or how he got there.
In the late 80s, Chris' first full-time job was at Carlton Magazines*, where he worked as publisher's assistant on two titles: Woman's World, and Country Homes & Interiors. It was an Edina & Patsy, 'Ab Fab' world, full of big shoulder pads and bigger hair – especially Chris' – albeit in a damp, grey basement just off Oxford Street.
Unfortunately, his time there proved to be short-lived. The company poured a million pounds into launching a new magazine, Riva, aimed at 'superwoman', whom the publishers defined as a beautiful, successful young businesswoman who, on returning home with the latest cosmetics, would spend her evenings putting up shelves and doing metalwork and DIY. But superwoman was too busy spot-welding to read such tittle-tattle; the magazine bombed and took the entire company with it. One staff member filled up a van with furniture from the bankrupt office and furnished her flat with it. She's now a leading light in London theatre. Take that, superwoman!
The 'Who Who's' (sic) Affair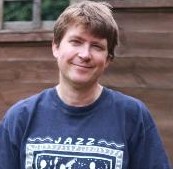 Chris took his first detour into book publishing in 1988, with a happy three years in Bloomsbury at Europa Publications**. At that time, desktop publishing was in its infancy and 'mechanical' artwork was still in use. But the old technology had its drawbacks: on one occasion, the text overlays for the jacket of a major annual fell off the artwork just as it was being packed up for the printers. They were hastily re-attached in the office, but no one noticed that the words of the title – set in 92pt capitals – were now in the wrong order.
And so it was that 'THE INTERNATIONAL WHO WHO'S' (sic) was printed in its thousands.
Chris later managed to get the acting editor of the book, Basil Ballhatchet, invited onto the Radio 1 Breakfast Show to talk about who was in that year's edition. However, the DJ, Simon Mayo, spent nearly all of the interview making fun of Ballhatchet's name. (For the record, it's pronounced Balle-haché.) Shortly afterwards, Basil moved to Moscow under mysterious circumstances.
The Wossy Affliction
By now, the besuited and bequiffed Chris had developed a strange affliction: being constantly mistaken for the young Jonathan Ross, including once by Hugh Laurie, who shouted "Jonathan!" at him from a sports car and gave him a cheery wave. In reception at the BBC one day, a That's Life presenter thought Chris was Wossy having a secret meeting to leave Channel 4. "Wow, I didn't expect to see you here!" he said, giving Chris a conspiratorial wink. "Got to keep yow options open," said Chris, attempting a wubbish Wossy voice.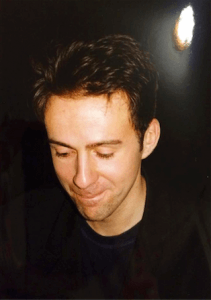 Run away!
A brief sojourn at another publisher gave Chris the Apple Mac skills he needed to be in the vanguard of the first wave of digital publishing. He spent two years using those skills in an in-house advertising agency at a London council, where he found himself plugged in to Whitehall gossip and intrigue. Round about this time, Chris was once forced to hide in a bathroom for several hours with a prominent Church of England priest, who was trying to avoid answering the door to Sebastian Coe. "He's always fucking coming round!" hissed the reverend.
It's best we leave that story there… just forget you read anything about it.
Twinkle toes
Back in publishing, a temp booking at one magazine found Chris in news meetings in which the elderly, old-school team would, on cue, wrinkle their noses and exclaim, "If you get a twinkle [of a news story], don't blame it on the cocaine!" and giggle like naughty children. Chris spent much of his time at the magazine maintaining his decorum in difficult circumstances – a skill that has benefited him many times over the years.
But of course, drugs and the media sometimes go together like firing your experts and paying interns to tweet press releases: Chris once met an art editor who wore industrial-grade narcotics in her necklace and who would launch into tirades of terrifying abuse if anyone criticised her layouts.
At another company, a tweedy editor in a branch office once asked Chris to fax him some paper samples: he thought the machine was a matter-transporter and that the samples would emerge at his end. Chris tactfully said his fax wasn't working and he'd bring them over himself.
Meanwhile at The Bookseller magazine, legendary organ of the publishing industry, Chris was employed for his desktop publishing skills, but was never allowed to use them. Instead, he had to make up the weekly issue by pasting wax proofs onto paper grids – a skill that at least gave him some valuable insights into the mechanics of print design. Asking a Booker Prize judge what advice he'd give to a friend who'd just written his first novel, the literary grandee said, "Is he good looking? That's the main thing. Tell him to get some sexy photos." Lovely.
The Thatcher-Penguin Nightmare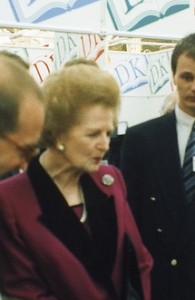 At The Bookseller, Chris was often sent to photograph authors and celebrities at launch events. Lauren Bacall (see Photos), Martina Navratilova, Spike Milligan, Richard E Grant, Clive James, Dirk Bogarde, Richard Branson, and others, were all photographed by Chris – who defocused his camera when shooting the novelist Julian Barnes because, in Chris' words, he was "an asshole". All of the images were of the blank wall behind him.
At the London Book Fair in 1995, Chris found himself involved a legendary mishap. Against his will, he was asked to accompany Baroness Thatcher on a walkabout to promote the first volume of her hideous autobiography. It was also the 60th anniversary of Penguin Books, and so it was decided that a man dressed as a six-foot cuddly penguin should also go walkabout behind the Baroness, who by now was radiating a cloud of evil.
And so it was that a demon-eyed, grim-faced, silent Thatcher and a depressed man dressed as a giant fluffy penguin set off with Chris around Olympia.
Chris – sensibly – decided to capture the moment for posterity, but while walking backwards to line up the shot, fell backwards down an escalator and flattened a group of visiting Japanese dignitaries. The Baroness was not amused.
Later that evening at Penguin's 60th birthday bash, an editor pointed drunkenly at an ageing British thespian. "Now he can't write for toffee," she bellowed in Chris' ear, within earshot of the demure, sophisticated gentleman, who passed away shortly afterwards. "His editor does it all for him!" She then pointed at Will Self and screamed, "I LITERALLY LOVE HIM!" Chris decided it was time to go home.
The Umbrella-Railway Disaster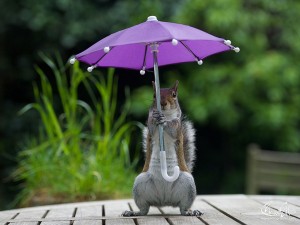 Embarrassing accidents and Chris go hand in glove. In the early 90s, he was involved in another legendary – and equally improbable – disaster. It unfolded thus…
While running late for a train one blustery morning, Chris took a shortcut through an ornamental garden, glanced at his watch, tripped, and fell into a particularly aggressive bush. Trapped in the prickles for at least a minute, Chris flailed around, tearing his trousers to shreds and giving him the appearance of a wild, crazy, and unkempt man – quite a novelty. Finally extricating himself from the shrub, Chris picked up his umbrella and ran headlong towards the now approaching train, only to arrive seconds too late as it pulled out of the station. "Oh bloody hell!" yelled Chris to the uncaring gods, and in a fit of pique, hurled his umbrella onto the platform.
This is when things really began to go wrong. A gust of wind half-opened the brolly and carried it through the ticket office, across the platform, and down into the back wheels of the departing train. Chris stood forlornly on the platform, watching the carriages trundle out of sight, with his umbrella now wedged in the brakes. Realising that he should probably mention this to someone, he knocked on the ticket office window. "Oh, hello," he said to the man. "I think my umbrella's stuck in the wheels of your train. The one that's just gone round the corner. I can't lie to you. You might want to check it out."
"Oh MY GOD!" yelled the ticket man. "YOU STAY THERE!" At this point, Chris caught a glimpse of the wild man he now resembled in the ticket office window, glanced at his ripped trousers, and weighed up the situation. It didn't look good. So he did the only thing he could: he made a run for it, calculating that he had just enough time to go home, change into clean clothes, grab a taxi, and get to the next station down the line to catch the later train.
And so it was that he strode onto the platform 20 minutes later, serene, smartly dressed and neatly coiffured. Only to find: NO TRAINS and hundreds of angry people on the platform. Irritated at this latest obstacle to getting to his meeting, Chris found the station master. "Oh, hello," he said. "When's the next train to London? It's just that I have to be somewhere. It's very important."
"There aren't any fucking trains," shouted the station master, who seemed a little grumpy. "Some mad person – literally a loony – got his umbrella stuck in a train, and we've had to close the entire line between here and Victoria to find it."
And so it was that Chris had to phone his boss. "I'm not going to be at the meeting, because I seem to have broken the railway," he said. She believed him.
The Coulsdon Vampire
Safely back in the media world, Chris spent a few months commuting to Soho from the Surrey bankers' belt. One foggy November morning, while his train stood at Greater London not-spot Couldson South, Chris noticed a woman in a diaphanous white dress floating towards the carriage with her arms outstretched, as if carried on the wind itself. Her hair was wild, dark, and pre-Raphaelite, and her dress little more than a smock or nightie in the chill autumn morning. She threw open the door and found the only free space in the carriage: right next to Chris. She took out an old, leather-bound notebook and began writing in it, lost in thought. Intrigued by the pale woman who was impervious to the cold, Chris glanced at her notebook and saw that it was full of names and addresses, written in beautiful Gothic script. At the top of the page was a single word, apparently written in blood: 'Vampyres'.
Woah, Felix!
After his stint at The Bookseller, Chris applied for a job as production editor on a technology magazine at Dennis Publishing. He got the job because the editor couldn't think of anything to ask him, so Chris interviewed himself and decided he was the right man for the post. "Ah!" said the editor, making strange karate-style chopping motions with his hands.
(When that magazine was sold to Reed some years later, the same editor replaced the list of contributing staff with a column of insults and expletives, and under the publishing director's name added, "Who ate all the pies!" The issue was printed and mailed out before anyone noticed.)
On Chris' first day at Dennis, he spotted a bearded, long-haired man shuffling towards him in the office, wearing a pink paper A-line dress, carrying a bucket, and ringing a leper's bell.
"Who the hell is that?!" hissed Chris to a colleague. It was, of course, multi-millionaire publishing maverick, poet, forest-planter, and self-confessed crack addict Felix Dennis, who owned the company and lived, quite openly, with a harem of women he'd collected from different parts of the world. But on this occasion, he was collecting money for charity.
Once a week, Felix would turn up in a chauffeur-driven Bentley, leave it on the kerb with the engine running, line up all the week's publications on a shelf, and bellow at the art editors if anything wasn't up to scratch. Then he'd get back into the car and be driven home. (It was a great lesson: on a crowded newsstand, magazine covers have to grab your attention.)
Felix was famously declared too thick to understand his own actions by the Judge of the Oz magazine obscenity case in the 1960s (he received a more lenient sentence as a result), but went on to found a publishing empire and own a villa on the private island of Mustique, which, every year, a lucky employee could win the chance to stay in, all expenses paid.
He was a genius, a lovely man, and much missed. His house parties were legendary. David Bowie once popped in for tea.
'Allo 'Allo…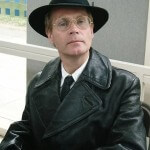 A fellow production editor at Dennis Publishing turned out to be resting actor Richard Gibson, better known as Herr Flick from 'Allo 'Allo, who sat next to Chris and gossiped amiably about the industry. Truly a meeting of minds!
But Gibson wasn't the only star around: the company's proximity to Broadcasting House meant that local cafes and pubs were stuffed with BBC DJs and TV presenters. At one departmental Christmas party in the Britpop 90s, the team found itself in a pub with Pulp frontman Jarvis Cocker, who complained about the rowdy behaviour. "So much for the fucking 'common people'!" yelled a reporter in Cocker's face.
Stealing superstars' nuts
On another occasion, Chris was sitting in the Crown and Sceptre in Great Titchfield Street when several peanuts hit him on the back of the head. Turning around, he found a notorious hell raiser sitting next to him: actor Keith Allen, who'd pelted Chris with nuts because he wanted someone to talk to. Heading home several Allen-purchased beers later – rather the worse for wear – Chris was caught short outside Broadcasting House. The only option was to relieve himself against a poster of a Radio 1 DJ. But which one? He chose Simon Mayo: revenge for poor Basil!
Over the years, Chris has had other nut-related encounters with pop superstars: he once climbed over a sleeping Adele at a house party to get to a bowl of nuts (they were really nice nuts); he shared fruit and nut cake with guitar legend David Gilmour, his wife Polly Samson, and Phil Manzanera out of Roxy Music at Saltdean Lido, and enjoyed a (surprisingly nut-free) day at Peter Gabriel's Real World studios at Box, near Bath. (Gabriel appears in Chris' book, 'The Complete Guide to Digital Audio'.)
On another occasion, Chris got to hear actor Martin Freeman sing 'Eton Rifles' with a punk band at a birthday party (Chris is friends with the actor's musician brother.) Chris also had the privilege of sitting in at Abbey Road one day when some of The Beatles' material was being remastered for DVD, and was able to listen in.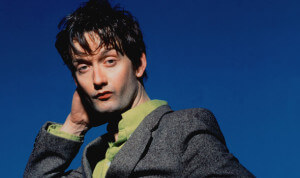 Silicon enhancements
But it was while Chris was a production editor at Dennis in the mid-90s that his career as a writer and magazine editor took off, when he stood in for a sick reporter to cover an interview at Apple. Within a few months, he was made features editor of Business & Technology magazine.
Now defunct, in the 90s B&T was years ahead of its time in focusing on new media and digital disruption. But 20 years ago that far-sightedness wasn't shared by the magazine's owners, who neglected to acquire the online rights when they bought the magazine from a rival. So every month, all the content from the print issue was loaded onto disk and couriered to Rob Lewis, founder of Silicon, who published it online at no cost to himself. Clever Mr Lewis!
Trainspotting
Chris then moved to another magazine giant. Among countless other titles, the company published a magazine for railway enthusiasts, where one of its reporters liked trains so much that he was discovered at his desk pleasuring himself over a picture of a diesel. He was escorted from the building, never to be seen again. Another journalist left in equally improbable circumstances – after co-writing the international hit 'I Believe' for Cher.
At the turn of the Millennium, Chris found himself in a senior role at a different magazine, where he discovered that its male owner had self-published a soft-porn novel under a woman's name. It was set in Cheltenham Ladies' College, where all the 'ladies' clothes had a habit of falling off. Chris kept a copy as insurance.
To keep himself amused on 12-hour days, Chris began keeping a note of everyone in the IT, PR, and publishing industries who had stupid names: Dick Tinkler, Ransome Love, Phil and Paul Mycock, Linda Smoulders, Tanya Bunny, Michael Skok, and more, all made it onto the list. Chris hatched a plan to invite them all to an office party, give them name badges, and see what happened next. He told his team there would be bonus points for the cleverest first-hand introductions – "Have you seen Michael Skok?" would have scored 20, while "Do you know Linda Smoulders?" would have scored 10.
(Chris has lifelong experience of meeting people with silly names. He went to school with a boy called Russell Sprout, whose rucksack had a handle on top. As a result, boys would pick the unfortunate lad up by the handle and walk around the school with him, as if he was a giant handbag.)
Accounting problems
Chris worked at a local book publisher for a while in Brighton, where every moment of the day had to be recorded on a timesheet. But there was a problem: Chris worked exclusively on new projects, developing and commissioning brand new ideas, and there wasn't a code for that. As a result, every hour of Chris' working day had to be accounted for by randomly adding fictitious costs to the company's other publications, which meant that none of them ever made any money. Today, the company publishes books on crochet. One, featuring pictures of knitted men and women in a variety of sexual positions, has actually been a hit.
The Stanley Kubrick parcel
One day out of the blue, while working for the same publisher, Chris received a package in the post: it was from Stanley Kubrick's archive, and contained the late director's original sketches, notebooks, research, and concept drawings for the film AI: Artificial Intelligence (later completed by Steven Spielberg). Chris spent several days leafing through the treasure trove of material – an extraordinary privilege – with a view to making a book out of it. But his boss decided no one would be interested. Reluctantly, Chris had to send the package back, but did attach a note saying that his boss was an idiot.
Dial 9/11 for business
Chris was acting editor of Computing (then published by VNU) on September 11, 2001, the day of the US terror attacks. Within 48 hours of the twin towers' fall, the magazine had received a dozen press releases from technology companies, all trying to market their services on the back of mass murder. More arrived in the following weeks. ('Is your data at risk of being lost? Do you need backups or disaster recovery systems?')
But not all IT companies are so on top of their marketing message: speaking to one company on the phone years later, Chris asked them what their unique selling point was. There was a long silence from the CEO. "Nope… nothing springs to mind," he said.
Today Chris is freelance, and co-runs his own company. Any client stories are guaranteed confidential!

• Why is this story written in the third person?
• Early Life

Enquiries
07986 009109
chris@chrismiddleton.company
---
© Chris Middleton 2015 and 2016.
*: A company called Carlton Magazines exists today as a non-trading entity. This entry specifically refers to Carlton Magazines, a publishing company in the late 1980s, whose titles were acquired by IPC after the failure of Riva.
**: Since 2000, Europa has been a division of Routledge. In the 1980s and 90s, it was part of a another privately owned company. It is, of course, blameless for accidents involving artwork.