Why skills and education are the real robot battleground
---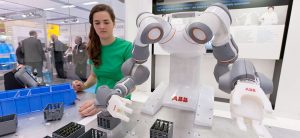 While robots may sweep aside low-skilled industrial jobs, they will also create new skilled opportunities. This is why skills and education must be the priorities, says Chris Middleton.
The march of the machines is continuing apace, according to recent research.
2017 has been a record-breaking year for industrial robotics, says the Robotic Industries Association (RIA) of the US. In total, over 19,000 industrial robots worth $1 billion were sold in North America during the first half of 2017, the highest ever number of orders for the region. The figures reveal a one-third year-on-year increase in shipments for the first two quarters, and a 26 per cent surge in spending.
Orders grew most in the automotive sector, which saw a 39 per cent increase in purchases. Globally, the automotive robotics market is set to expand at a compound annual growth rate (CAGR) of 10.74 per cent until 2021, when it will be worth $8.44 billion, according to figures published by Marketsandmarkets.com. However, some analysts have suggested that a slowdown in the automotive sector may stifle some of that growth.
Either way, this is the fourth consecutive year that the US market for industrial robots has broken records. US analysts Inkwood Research forecast that the local market for all types of robotic automation will grow to $18.25 billion by 2022, at a CAGR of nearly 63 per cent.
A complex equation
So what are the implications for business, and for human society overall? As I have previously reported, China is a useful yardstick for measuring robotics' impact, because it is automating faster than any other country. The 66,000 industrial robots China purchased in 2016 represented one quarter of all the robots manufactured in that year and can do the jobs of one million full-time workers. Some of these machines cost little more than a US middle-manager's salary.
However, 'one robot in, 15 people out' is not the whole story of employment in an automated world. UK-RAS, the UK's research organisation for robotics and autonomous systems, recently published its own figures for the US automotive sector, which reveal that although the industry itself purchased over 60,000 industrial robots in a single year, 2015, it created nearly one-quarter of a million new jobs during the same period, with many of them being skilled roles.
Several studies have suggested that as automation increases across every sector of the economy, new job creation will rise too, just as it did in the first waves of digital business and mobility.
For example, Amazon – itself a big player in robotics – had less than 45,000 workers when it began its robotisation programme in 2014, but today employs over 90,000 people and aims to employ 100,000 by the end of 2018.
Like all the preceding ones, this latest wave of disruptive automation is driven by manufacturers' desire to improve productivity, slash costs, and raise quality. Yet while tactical applications of the technology create unnecessary societal risk, strategic applications open up new roles in designing, building, installing, testing, and repairing robots, along with new opportunities in product customisation, consultancy, customer service, and more.
For example, Rolls Royce is pioneering the use of tele-robotics for remote jet engine repair, allowing skilled engineers in Derby to repair engines on the tarmac in Dallas or Dubai. This creates new job opportunities for robotics technicians at major airports worldwide – an investment for Rolls Royce, which is paid by the number of hours its engines are in the air, not on the ground.
In the manufacturing sector, industrial robots are evolving fast, from the old model of single-task machines in safety cages to a new paradigm of programmable platforms and 'cobots' – robot co-workers that can function safely alongside their human counterparts. In this way, next-generation 'cobots' complement human workers' knowledge, skills, and experience, as their developers intended.
The skills battle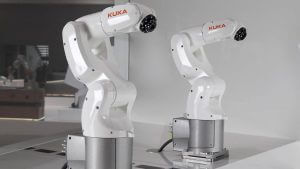 So if it's true that 66,000 robots can do the jobs of one million low-skilled manual workers, while creating 250,000 skilled positions (2.5 skilled workers in, 10 low-skilled workers out), it's clear that mass unemployment is not the only challenge of the machine age. Two battlegrounds are emerging: education and skills, and the widening economic disparity between those workers who can adapt in a booming high-tech market, and those who will be left behind.
A3, the US Association for Advancing Automation (parent organisation of the RIA), has published its own findings on the skills challenge facing the US manufacturing sector:
"Studies show an increasing skills gap with as many as two million jobs going unfilled in the manufacturing industry alone in the next decade. Fully 80 per cent of manufacturers report a shortage of qualified applicants for skilled production positions, and the shortage could cost US manufacturers 11 per cent of their annual earnings.
Manufacturing executives reported an average of 94 days to recruit engineering and research employees and 70 days to recruit skilled production workers. The skills gap is driving up what are already above average wages and benefits in US manufacturing."
"In the automation age, as in the computer age before it, job titles shift to reflect the impact of technology. As lower-level tasks are automated with advanced technologies, such as robots, new job titles and industries arise across nearly every economic sector. A recent study concluded that occupations that have 10 per cent more new job titles grow five per cent faster."
Similar challenges will emerge across other sectors as robotics, AI, and autonomous systems spread. And they are spreading: countless reports chart the robotics boom. For example, the value of the service robotics market is forecast to reach $3.9 billion by 2022, at a CAGR of over 15 per cent, according to Marketsandmarkets.com. The same analysts report that the market for medical robotics – precision machines designed to complement the expertise of human surgeons – will be worth over $20.5 billion by 2022, from $6.4 billion last year: a CAGR of nearly 22 per cent.
Where will all the drivers go?
Driverless vehicles will be another high-growth sector, as manufacturers old and new battle to invest. In Waymo's lawsuit against Uber – which is accused of misappropriating trade secrets and violating Alphabet/Google patents – it was revealed that Google spent $1.1 billion internally on developing self-driving software and hardware between 2009 and 2015 – a similar figure to the amounts spent separately by Ford, Mercedes Benz, and General Motors on buying in driverless technologies.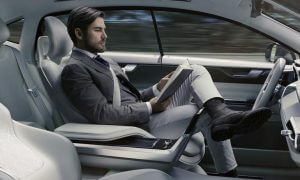 In the future, the car industry will be as much about Waymo, Uber, and Tesla as it will about GM and Ford. Companies like Uber and Lyft have used human drivers to spread their apps/brands and prove the ride-share market, but drivers may have no role with them in a future when autonomous vehicles can be summoned with a click.
In the US alone, 3.4 million people earn a living as drivers (adding together Bureau of Labour statistics for taxi, Uber, bus, school bus, delivery, and truck drivers). There will be further impacts on jobs in vehicle repair, parking, and more, so re-skilling up to three per cent of the entire US workforce – some of whom may be supplementing their incomes in a gig economy – will be a major challenge. And this is just the impact of automation on a single industry.
Of course, autonomous vehicles won't eradicate human drivers – people will always drive competitively or for pleasure – but the big-picture challenge remains the same.
With the rise of the robots apparently now a foregone conclusion, the global market – variously estimated to be worth $1-$4 trillion over the next decade, including software and AI – will belong to those countries that have the following pieces in play:
the foresight and funding to hothouse the domestic development of these technologies

the flexibility and imagination to disrupt existing business models, sooner rather than later

and the determination to invest centrally in skills, education, and training at globally competitive levels.
The US has funding, foresight, and Silicon Valley, yet faces real challenges in skills and education, as we have seen. But where does the UK stand?
The UK perspective
The news isn't good. While the UK boasts some of the world's top researchers in robotics and autonomous systems (RAS), the country's central investment in these technologies – up to £300 million by 2020 – is pitiful when compared with Japan, for example, where the government is investing £161 billion, with the ambition to create a super-smart society.
The UK must do better, or lose its chance of being a major player in the biggest new market this century. And that's not all: according to the Science and Technology Select Committee, up to 80 per cent of UK funding for RAS comes from the EU. With Brexit looming, that sustained level of funding must be in doubt.
Figures provided by YouGov for a September 2017 RSA/YouGov report, The Age of Automation, reveal that UK business is also failing to back this booming technology set. Far from capitalising on industrial robots' ability to make manufacturing more efficient, robot sales to the UK actually decreased between 2014 and 2015, with the UK purchasing far fewer than the US, Germany, France, Spain, or Italy.
The report adds, "Herein lies the rub for the UK: while as a society we have been quick to lament the rise of AI and robotics, as an economy we have been slow to adopt these technologies.
"In 2015, the UK had just 10 robot units for every million hours worked, compared with 131 in the US, 167 in Japan and 133 in Germany. While this may reflect our different sectoral make-up, UK businesses and public services as a whole suffer from stubbornly low rates of investment.
"ONS data shows spending on gross fixed capital formation – a measure of investment that includes plant and machinery, software and new dwellings – has barely grown in real terms over the last decade. Going further back, data from the World Bank shows the proportion of UK GDP accounted for by gross fixed capital formation has fallen by seven percentage points since 1990."
The Global Innovation Index (GII) 2017, published annually by the World Intellectual Property Organisation (WIPO) et al, says the situation is even worse than that: the UK is 102nd out of 127 countries in terms of capital formation around infrastructure programmes. An appalling statistic.
A YouGov poll in the RSA report asked the UK's business leaders about their plans for investment in RAS. Just 14 per cent said they had invested in, or were about to invest in the technologies.
But the UK has many advantages, of course. For example, the GII report finds that the UK is the world leader in creating and matching new business models with emerging technologies.
But while the UK also has some of the best universities in the world, the GII slams the UK's record in education overall. The UK is only rated 22nd globally for education quality, and 25th for education expenditure as a percentage of GDP. A big weakness is the government's spending on secondary education, in which the UK only ranks 39th worldwide. A further problem is the number of pupils that go up to university: the UK is just 46th in tertiary enrolment.
That's nowhere near good enough for a major economy, and suggests that the UK faces an uphill battle to prepare its workforce for the rise of the machines, let alone to upgrade its own infrastructure. Several reports have suggested that the UK also needs to triple its investment in R&D to remain competitive, post-Brexit.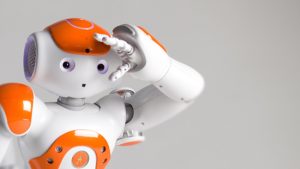 So while the UK has the right ambition, skill, and attitude to innovation when it comes to robotics, it has no choice but to increase its central investment dramatically, both in the technologies themselves and in secondary or further education. Failure to do so will leave the UK languishing in the 'could have been a contender' category, while battling the technologies' societal impacts after the fact.
Unless it can nurture its domestic skills base post-Brexit, the UK could find the economic disparity between skilled and unskilled workers growing to cataclysmic levels, as a direct result of the machine age. Not all of the essential skills will be academic or professional, however: interpersonal communication, creativity, lateral thinking, and critical thinking will be equally important.
At the same time, many gig-economy roles, such as call centre work and driving, may also fall to AI and robotics, leaving many people with few sources of income in post-industrial regions of the country. A 2017 report on the impact of robotics and AI, published by think tank Future Advocacy, revealed that the Midlands and the North of England will be hardest hit by the coming wave of automation.
But it is also conceivable that the 'PAL' industrial model proposed by consultant Sean Culey – companies that offer personalised, automated, and localised manufacturing services – may help to rejuvenate those areas with entirely new types of business. Let's hope so.
Like the US, the UK may be unable to fill thousands of skilled industrial roles without bringing in talent from overseas – workers whom it will be increasingly hard to attract, post-Brexit. As the UK prepares to leave the EU, that would be an unfortunate irony.
• A version of this article was first published on diginomica.
• Did Jeremy Corbyn really call for a robot tax? (Chris Middleton, diginomica).
• AI and automation: the real political cost (Chris Middleton, diginomica)
• For more articles on robotics, AI, and automation, go to the Robotics Expert page.

Enquiries
07986 009109
chris@chrismiddleton.company
---
© Chris Middleton 2017.