Full details for investors of Chris' business magazine project
---
Leadership, organisations, people, technology, world affairs, and business travel.
Launched as a concept issue in Spring 2014, Strategist magazine (aka 'the Strategist') was a title that Chris conceived, researched, developed, designed, edited, and sought to publish himself: a quarterly boutique print magazine for the boardroom table and the business lounge, which capitalised on the ongoing boom in high-end, boutique print publications. All IP in the Strategist remains 100 per cent owned by Chris.
Sample content from Issue 1 included: a one-on-one interview with Salesforce.com CEO Marc Benioff; a UN development economist on investing in Africa; an in-depth look at the power of dissent; a focus on 'leadership under pressure' with a nuclear submarine commander; a guide to doing business in New York City; a detailed analysis of 'war in the cloud' as US and EU regulators face off over data governance; a report on how large organisations can be as entrepreneurial as start-ups; a look at the 30 Per Cent Club's campaign to get more women into boardrooms; and much more.
The magazine looks at: leadership (skills, case studies, concepts, and applications); organisations (models, case studies, inspiring examples, sustainability); people (inspirational figures, success stories, outsiders, key voices); technology (strategic applications, high-level briefings, sector analysis); world affairs (sustainability, economics, politics, the environment); and business travel (how to do business in different cities and cultures – where business meets lifestyle, with city guides).
The Strategist is about the human being in business, the issues, and the global context; it puts ideas, intelligence (in every sense), sustainability, and skills on a pedestal, not wealth, power, or fashion. The Strategist is also a mobile-focused digital platform at iamtheStrategist.com (concept design) and an umbrella brand for boutique conferences, mentoring, business briefings, and analysis.
The advertising proposition the Strategist presents is unique: a new sweet spot between business-to-business services and high-end consumer brands.
• See the gallery of Chris' Strategist designs at the foot of this page.
---
What happened next? (A cautionary tale)
Chris developed the Strategist over a two-year period, and took the concept to a publishing partner with whom he produced a concept issue (copies of which are still available). One week before publication of full issue 1 – produced by Chris – the company attempted to defraud him and walk away with the IP of the magazine, leaving him with nothing. The company had promised to put in an investment sum for the Strategist, in exchange for which Chris would put in his IP, and jointly they would own the new enterprise. However, they attempted to take the Strategist concept – lock, stock, and barrel – without making that investment and without paying Chris for his work. The company falsely claimed the IP in the title was theirs, despite having played no role in its development, and set about designing a website for it. Before they were able to do so, Chris designed, built, populated, and launched an online version of the magazine himself in just three weeks (from a standing start), and so was able to demonstrate his continued ownership of the IP. However, as a self-employed writer and editor – now without the backing of an established publishing house – Chris was unable to commercialise what remains an excellent blueprint for a magazine and conference brand.
---
iamtheStrategist.com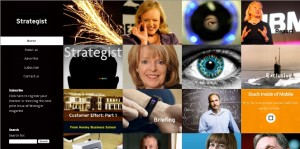 Strategist was never intended to be just a boutique print magazine. The concept mobile-first digital edition that Chris launched himself can still be found at iamtheStrategist.com. (It has not been updated since 2015.)
With a grid of colour-coded content designed to engage readers with long-form editorial, iamtheStrategist.com is a world away from the news-portal model of most online magazines.
Its curated approach was a deliberate attempt to shift professional publishing away from what Chris calls "clickbait and cats". He says, "For years I was told that no-one reads long-form content online, but that's nonsense: on mobiles and tablets, there's no distinction between an ebook and a website."
---
Strategist gallery: Designs by Chris Middleton