Chris Middleton hears some life lessons from Peter Gabriel
---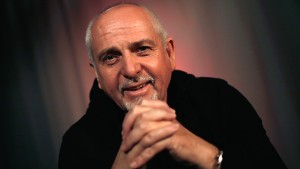 To Westminster to eavesdrop on a conversation between music legend, activist, and tech pioneer Peter Gabriel, and philosopher Alain de Botton.
The event was hosted by The School of Life, a venture that uses philosophy and therapy to offer grown-ups "some of the life lessons that school never taught them". In a way, it is part TED, part gift shop, and part self-help group: a very English solution to developing emotional intelligence, courtesy of its Swiss co-founder, de Botton.
His purpose is to make philosophy more relevant to people's daily lives, which in today's world of surface, speed, and fleeting sensation can only be a good thing – if you're able to afford the school's services.
The evening was billed as 'Peter Gabriel: Life Lessons from a Rock Star' and de Botton embarrassed his guest by introducing him as "one of the great men of the century", causing the self-effacing singer to cackle with laughter – "Say something good!" he shouted.
So what it is about music – that axe to the frozen sea within us* – that still drives Gabriel more than his other pursuits? "We like to thump our chests, dance, and find a mate," he said. "When you're a shy and spotty boy and you're in a rock band, the world opens up in mysterious ways.
"I was sent to a public school [Charterhouse]. It was on the cusp of suffering, but still pretty oppressive, and for me music was a retreat… I would turn it up as loud as I could and just dance… It was a release." (As an ex-independent school boy myself, I remember rock bringing an explosion of colour, noise, sex, and outrage to a grey and silent Home Counties world.) This may be why the Gabriel songbook is full of heroic characters who journey through an underworld of tests, ordeals, and misfortunes, to emerge changed but triumphant.
Gabriel the Belieber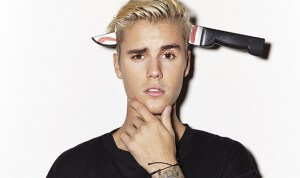 On the subject of which, it was a surprise to discover which musician Gabriel is a particular fan of today. "My listening consists mainly of Justin Bieber," he said. And he meant it. Bieber's new album is "very musical, has great rhythms, it's beautifully produced, and he sings very well. So for those who dismiss him as teen fodder, I would say open up your ears a little bit. There is a serious artist there."
But Gabriel added that he has little choice in the matter: Bieber is what his seven-year old demands in the car on the school run every day. "And it's a very long journey…" he sighed.
Today, Gabriel's own musical journey has become a "quest for greater simplicity", he explained, despite his tendency to explore tangents and musical byways. A new album is in the offing, "September," he said. "But I won't say which year… Fuck it, when I'm ready."
But what other life lessons can we learn from a man who has spent nearly 50 years in the public eye – at least one of them dressed as a flower? Be a renaissance man, perhaps: Gabriel is far more interesting, far-sighted, and entrepreneurial than his reputation for being a dabbler and dilettante might suggest.
Pern you up, Pern you down?
Unlike the Gabrielesque figure in the Brian Pern comedy series, few stars come across as less self-important than Gabriel, a warm and engaging man possessed of that quiet power that typifies shy people who've mastered stagecraft. Indeed, he's a legendary "ummer and ahher" (in Phil Collins' words), despite being driven and successful across a number of different fields.
Alongside music and activism – he puts his money where his mouth is with projects such as Witness and The Elders – 66-year-old Gabriel has been bang on target with his technology bets and cultural predictions over the years.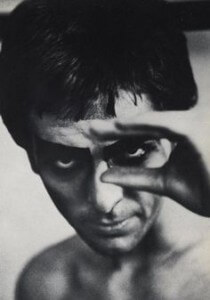 In the 1970s, he experimented with bio-feedback systems ("But I couldn't sell it to the band," he explained) and predicted that music would one day be sold by phone companies – 30 years before it happened. He set up WOMAD, nearly bankrupting himself in 1982 with an event that became the blueprint for today's family-friendly boutique festivals.
He was a rich-media advocate in the 90s, mixing music with interactive video and games, and in the Noughties was an early co-founding investor in music streaming and online jukeboxes, with OD2 (On Demand Distribution) and We7. In 2003-04 he co-proposed a musicians' union for the digital age, MUDDA.
Today, he co-owns high-end audio company Solid State Logic (SSL), a canny move with the resurgence of interest in high-end, aficionado tools. Then there's the Real World record label and studio complex, not to mention the Society of Sound and other ventures, such as his long-cherished dream of building a theme park, where visitors can delve into different levels of experience (that underworld of change and transformation once again).
All of which should give him a reputation to overshadow Damon Albarn's today, and yet Gabriel is increasingly labelled 'the Prog Father' and seen as a voice from the distant past – possibly because his activities so often take him behind the scenes and away from music. 
Entire genres, careers, social movements, governments, and technology platforms have been and gone since his last album of new music, 2002's 'Up' (although he has toured many times since then, and reinterpreted his back catalogue with the 'New Blood' project). "The worst thing you can give an artist is too much choice," he told his audience – apparently without irony.
In 2003, he described the music industry as being "the canary down the coal mine" in the emerging world of peer-to-peer file-sharing, so we shouldn't dismiss his startling prediction – made at The School of Life – that thought transference systems are less than a decade away from commercial viability, with search engines that will show us pictures based on what we're thinking. 
Gabriel predicts that human beings will become "completely transparent to each other" via this technology (the idea behind his 1977 song 'Here Comes the Flood'). He's experimenting with prototype systems, he said – just as he did with early audio sampler the Fairlight CMI in the early 80s, becoming the first owner of the device in the UK. Not bad for a man with the bearing of a medieval friar who has wandered in from the Somerset hills.
Renaissance thinking
While – post Brian Pern – it might seem easy to mock some of Gabriel's activities, such as making music with Bonobo apes (do watch the video) and experimenting with the inter-species internet – "Will apes like porn as much as we do?" he wondered – there's a serious point to the things he does in the lengthening gaps between albums. As he put it: "Why spend so much time looking for intelligent life in outer space when we've done so little to understand the other intelligent species here on earth?"
But the ghosts of Gabriel's past are never far away, for some of his fans, at least (his "little cash machines", as one of them said recently on Facebook). "I just wanted to tell you that I've always loved 'Wind and Wuthering'!" shouted a Genesis devotee from the audience. "A technical point: 'Wind and Wuthering' was the first album I didn't appear on," replied Gabriel [wrongly, that was A Trick of the Tail.] But that's Gabriel's lot: always living in the future, but eternally dragged back to an imagined past from which people with tin ears never let him escape.
But, since he brought it up himself: Genesis? Gabriel admitted that some of the band's music "doesn't speak to him" in the same way anymore, but he still has great affection for "parts of 'Supper's Ready' and 'The Lamb…'". But, he stressed, "The door is open".
A very Gabriel state of mind.
*: Nietzsche originally said this of books, and Gabriel has used the phrase to describe music's effect on human beings.
.chrism

Enquiries
07986 009109
chris@chrismiddleton.company
---
© Chris Middleton 2016