Phone: 07986 009109 /
Email: chris@chrismiddleton.company /
Twitter: @strategistmag / @christopherrye1 /
Pinterest: christopherRye1 /
LinkedIn: Profile /
Journalist Directory: Profile /
christopher rye on Soundcloud /
Robot hire: www.StanleyQubit.com
Stanley the Robot on Twitter: @StanleyQubit
Strategist magazine: www.iamtheStrategist.com
(offline: relaunching late 2017)
---
Chris Middleton: Full Biography
 Chris is what used to be called a 'Renaissance man': a polymath with multiple careers and interests: respected journalist, author, magazine and book editor, designer, robotics expert, professional musician, and more – even a published photographer and poet. This is his personal website (For a short bio for use on websites and conference programmes, please go to the Press Area.)
---
Chris Middleton always had three callings: English, Art, and Music. He excelled at all three, and won a Barclays national short story prize in his teens. After attending one of the UK's leading schools, Surrey independent/private school Reigate Grammar, Chris turned down a place at art school to study English and Drama at Kent University.
After working as a session guitarist in London, Chris started out in publishing. His first full-time job was as publisher's assistant on Country Homes & Interiors and Woman's World magazines. He then worked for several years as a production editor, copywriter, and designer in both magazines and books – for Europa Publications, Longman, and publishing organ The Bookseller, among others – and also for an advertising agency.
---
Journalist and magazine editor
But in the mid-Nineties his career took off at Dennis Publishing, when he became one of the UK's leading business and technology journalists. The move wasn't planned: while working as production editor of Business & Technology magazine (B&T), Chris stepped in at the last minute to interview an Apple executive when the reporter was sick. Impressed by his article, the editor commissioned another. It was excerpted in The Guardian (a paper which Chris would later write for). He never looked back, and within months he was made features editor of B&T.
In 1997, he wrote arguably the first in-depth feature on the internet's threat to the music industry, interviewing George Michael, the Cocteau Twins, and record label CEOs.
Just two years later, Chris was made editor of one of the UK's leading technology monthlies, Computer Business Review (CBR) in its most successful year – which saw the launches of cbronline.com, a Mandarin edition in China, and a range of successful supplements. He was deputy editor, and later editor, of another of the UK's big technology titles, Computing. He was also co-founding editor of sourcingfocus.com, co-founding managing editor of Child Internet Safety magazine, and co-editor of UCInsight.com.
One of Chris' biggest successes was his four-year tenure as co-founding managing editor, designer, and chief writer of Professional Outsourcing – the market-leading print title he developed from scratch for its publishers, along with its spinoff events and supplements. Chris produced the quarterly magazine nearly single-handedly, handling everything except ad sales and proofreading.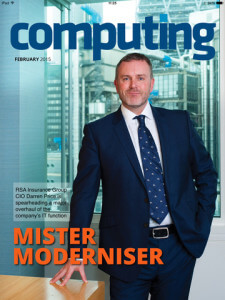 Today, Chris is a contributing editor to diginomica (one million unique visitors and two million page views in 2015), a consulting editor for Computing, and a blogger for the Digital Marketing World Forum (#DMWF). He is founder, editor-in-chief, and designer of Strategist magazine and iamtheStrategist.com (currently offline: relaunching late 2017).
Over the years, Chris has freelanced for: The Guardian; the BBC's Tomorrow's World; The Times; Computing; Computer Weekly; Hack & Craft; diginomica; i-CIO; Publishing News; Personnel Today; Citywire; BusinessCloud9; DMWF; and PC World, among many others. He has produced over 100 white papers and bespoke research projects for Incisive Media and other private clients.
(For more, go to the Journalist, Magazine Editor, and Designer pages.)
---
Public speaker and conference host
Chris is an experienced public speaker and conference chair/host.
• In 2016, Chris was the host of day two of the Space Innovation Congress in London, during which he interviewed a panel of astronauts, and hosted onstage discussions with technologists, astrophysicists, and entrepreneurs.
• Chris also hosted day two of the Digital Marketing World Forum London, at which he gave the keynote address, introduced speakers, and chaired panels on mobile marketing and storytelling.
• Chris also chaired the Future of Unified Communications panel at UC EXPO 2016.
He has also appeared on Sky TV and in numerous video webinars and audio podcasts, and has recently recorded the narration for a forthcoming animated movie.
(Also see the section on Chris' humanoid robot, Stanley Qubit, below.)
---
Author and commissioning book editor
Chris is the author of a number illustrated books, including: Creating Digital Music and Sound; The Complete Guide to Digital Audio; Instant Graphics (with Luke Herriott); and, as ghostwriter, First Steps in Digital Design. All have been translated into several languages. In the Noughties, he was also a contributing editor of The Big Read Book of Books, a tie-in with the BBC TV series on the nation's favourite reads.
In total, Chris has edited and contributed to more than 50 books on photography, illustration, graphic design, architecture, industrial design, movie special effects, video-making, print production, and robotics, for publishers such as Dorling Kindersley, Mitchell Beazley, Ilex, Amphoto Books, and Focal Press.
For two years, he was in-house commissioning editor for illustrated books publisher RotoVision, developing ideas, finding writers, and project-managing a list of titles for worldwide co-editions. (Before that, he freelanced in a similar role for Ilex Press.)
He is currently writing two novels, Morpheus Speedway (a black comedy) and The Golden Arrow (literary fiction), and is also a published poet. (For more, go to the Author and Book Editor pages.)
---
Robotics expert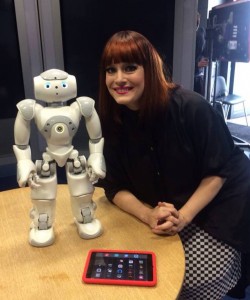 As journalist, author, and editor, a core area for Chris is the rise of robotics, AI, automation, machine learning, and humanoid machines. He has written a number of articles about robotics, interviewed some of the world's leading experts, and edited (and contributed to) the illustrated book, Ultimate Robot, for DK.
Chris is also a collector of robots, and – unusually – is one of the few private individuals in the UK to own a number of real humanoid robots.
These include his famous NAO-25 model, Stanley Qubit (pictured), who has appeared live on BBC1, on Radio 4 (in a production of 'I, Robot'), at conferences, and even taken school assemblies. (For more on Stanley, see below.)
For more, go to the Robotics Expert page on this site.
---
Mentor and trainer
Chris has trained as a mentor, and carried out voluntary work for foundation learning centre DV8 Training in Sussex, which helps teenagers who have left the education system early to acquire creative skills and basic qualifications. He has also run courses on media management and copywriting for a number of blue-chip clients, and is now working in partnership with a new consultancy Always Possible. (For more go to the Mentor page.)
---
Musician and producer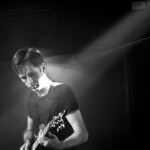 Under the pseudonym 'christopher rye', Chris is a songwriter, session rock guitarist, and freelance electronic music producer working with up-and-coming artists in Brighton.
Several of his songs have received (inter)national radio airplays. 'Rainy Night Sunday' and 'Big Sky! Keep Turning' received multiple plays on BBC 6Music, with the support of DJ Tom Robinson, who described 'Rainy Night Sunday' as "a classic, and a favourite of this show", giving it 10 out of 10 and comparing it to the Blue Nile.
Other broadcasters, including BBC Introducing on Radio Sussex and Radio Surrey, have featured his songs 'Beat-up Car' and 'I Tell the Moon', while a clip from one of his live shows was broadcast on Radio 1. Recently, the promo for his track 'Splinter Cell' was featured on music shows for a month on the Latest TV channel.
Chris has written and recorded the music for a number of films, including a US-award-winning short, and for several corporate videos, including for the Millennium Dome and CTRL. One of his tracks was acquired by a major car manufacturer for a US East Coast advertising campaign.
(For more, go to the Musician page, and to the christopher rye website and Soundcloud pages, or his official pages on YouTube and Facebook.)


---
Photographer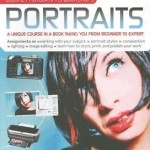 For several years, Chris worked semi-professionally as a photographer, specialising in high-speed black and white film portraits for a range of private clients, including actors, writers, and musicians. Some of his work was published in magazines, including The Bookseller and Sussex Life, and (ironically, as the images were shot on film) in a book called 'Digital Photography Workshops: Portraits'.
Recently, Chris has been experimenting with new types of digital images, and has set up a mini-business producing limited-edition cards and other items, which are on sale in select Brighton shops and galleries.
A selection of Chris' film and other photos is here.
Chris also paints abstract and expressionist canvases in oil and mixed media, and rents a studio from Brighton artist, Kellie Miller.
---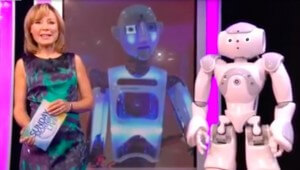 Stanley Qubit the robot (and TV/radio star)
Chris is one of the few private individuals (and the only journalists) in the UK to own a genuine humanoid robot, a next-gen NAO-25 machine called Stanley Qubit.
In February 2017, Stanley became the first real robot ever to appear in a dramatisation of Asimov's 'I, Robot' stories, on BBC Radio 4. And in 2015, robo-superstar, raconteur, and blogger Stanley co-hosted the BBC1 show Sunday Morning Live with Sian Williams and writer, musician, and broadcaster Ana Matronic.
Chris hires the robot out to private companies, PR agencies, public sector organisations, charities, schools, and colleges, and can incorporate him into presentations on robotics, AI, and new technologies. (For more go to the Stanley Qubit page, or to the robot's own website, StanleyQubit.com.)
In 2016, Stanley was joined at Chris' home by another advanced humanoid robot, Robi, designed by robotics legend Tomotaka Takahashi.
---
Other information
Chris has an IQ of 158, and on the Myers-Briggs system consistently tests as an INFJ personality (the rarest type, apparently). His business model is saying yes to things and then seeing what happens. This website contains everything that has happened in his life… so far.
Subscribe
---

Enquiries
07986 009109
chris@chrismiddleton.company
---
Directory/listings companies: Instead of just scraping all the information off this page and selling it for money – something you are forbidden to do – why not do something more ethical? Contact Chris directly and invite him to join your service. Be a good citizen online. It's good for your company's reputation.